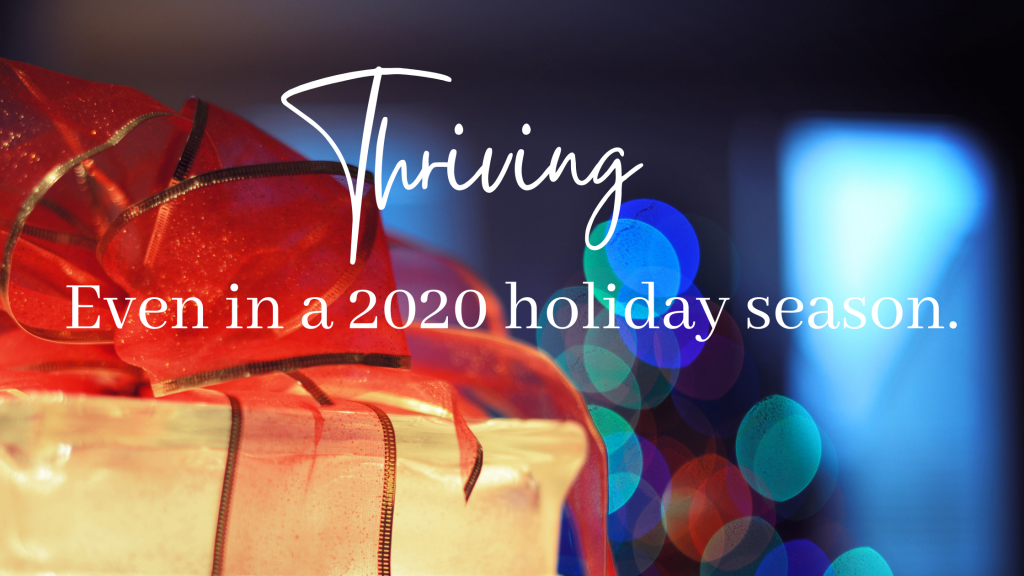 It's the Monday before Thanksgiving in the craziest year most of us have ever seen. I bounce back and forth between alternately being surprised it is not still May of this year and that it is not yet 2025. I've been building a business on the mantra "dare to thrive" for about 4 years now and it feels like 2020 has said "Oh yeah? Try this on for size." It's a year where not only does it feel more challenging than usual to thrive, but it can actually cause guilt when we do thrive.
It's amazing, and often surprising to see how God uses this business to continually teach me. Whether I'm actually helping or encouraging anyone else on the planet to thrive, I have no idea. I am challenged daily though. I am pushed to really understand what thriving is and not just how the world defines it. I'm convicted often of my thoughts, judgments and actions. I'm learning that a thriving mindset is one of grace, forward thinking, growth, consistency, tenacity, and loving myself and others well. A "surviving" mindset is often punitive, self absorbed, defeatist.
Learning to thrive has been a lot of releasing perfection and self-dependence, and learning to instead depend on God. 
So feeling like you're not thriving this year?
Would it surprise you to know that someone who's life's work is to help people thrive, sometimes usually doesn't feel like she's doing very well at that herself?
Would it shock you to know that I'm a certified health coach, and considered "that crazy health nut" by most people but I still have a weakness for a big bag of chips and dip?
Would you think I'm a fraud if you know I post scripture verses and talk about my faith but still have lots of sinfulness (and things in my past) that I'd never want most people to know?
Would you think I'm a mess to know I'm on my second marriage, in a marriage class and still get ridiculously upset that his coffee cup doesn't make it to the dishwasher? 
I'm learning that I can be all of those things, and thrive. 
I'm learning I can have days where I'm feeling blue or anxious, and thrive.
I'm learning some days the scale will go up, and still I'm thriving.
I'm learning that I won't always be the wife I want to be, the step mom I want to be, as healthy as I want to be, business owner I want to be, the example of Jesus I want to be, and still, I can thrive. 
Thriving means to flourish, like a plant. A plant will have seasons of sunlight and rain. Seasons of growth and dormancy. Times when it wilts a bit and times when it blooms. And the plant never apologizes for what stage it is in. It just keeps reaching towards the light and spends it's life learning to grow, thrive, and share it's distinct beauty with the world.
I hope, as we enter this holiday season, you'll keep reaching towards the light and learning to grow, thrive and share your distinct beauty with the world. Let go of your vision of perfection and find those moments of joy and light. And keep getting up every day, learning to thrive.
If you'd like to follow more of my journey as I Dare to Thrive, or even join me for the ride, I'd love for you to friend or follow me over on Facebook at Jennifer Rackley Chacon. The more the merrier! Cheers!