Christmas of 2005 I was going through a divorce. My first husband and I had always decorated to the nines and sadness of what was gone made me want to skip Christmas. I wanted to avoid it at all costs. So when my soon to be ex-husband dumped our Christmas tree and ornaments unceremoniously on my doorstep, my first thought was to throw it all in the dumpster. The next day at work a friend of mine who was a single mom with 3 young kids happened to mention that she wasn't sure how she was going to get a tree for her family that year. Queue the Christmas miracle music! It made my grinchy heart grow at least one size that day to be able to gift a bit of Christmas to them.
Fast forward to 2014 and I was just meeting my current husband. By this point I had regained my Christmas cheer. The story of Jesus's birth had new meaning to me and I found more joy and delight in the Christmas season. I still wasn't decorating much because I was single and in a small apartment; just me and 2 dogs. I found that my soon to be hubby though wasn't a fan of Christmas (in fact we joke that he likes Flag Day more than Christmas). Going through a divorce and being separated from your kids at Christmas, well I could understand his feelings. Yet it was tough for this "all things Christmas girl" to swallow that a "big Christmas" might not be a part of our future.
Christmas 2015 we were married and I experienced Christmas as a stepmom (times 4!). Of course the kids and I wanted to decorate and have a little bit of Christmas cheer in our apartment. The 5 of us convinced our own Christmas grinch that we needed a tree. Reluctantly he gave in, we went to a lot and chose a tree, and he even helped us as we crafted all of the ornaments to go on the tree.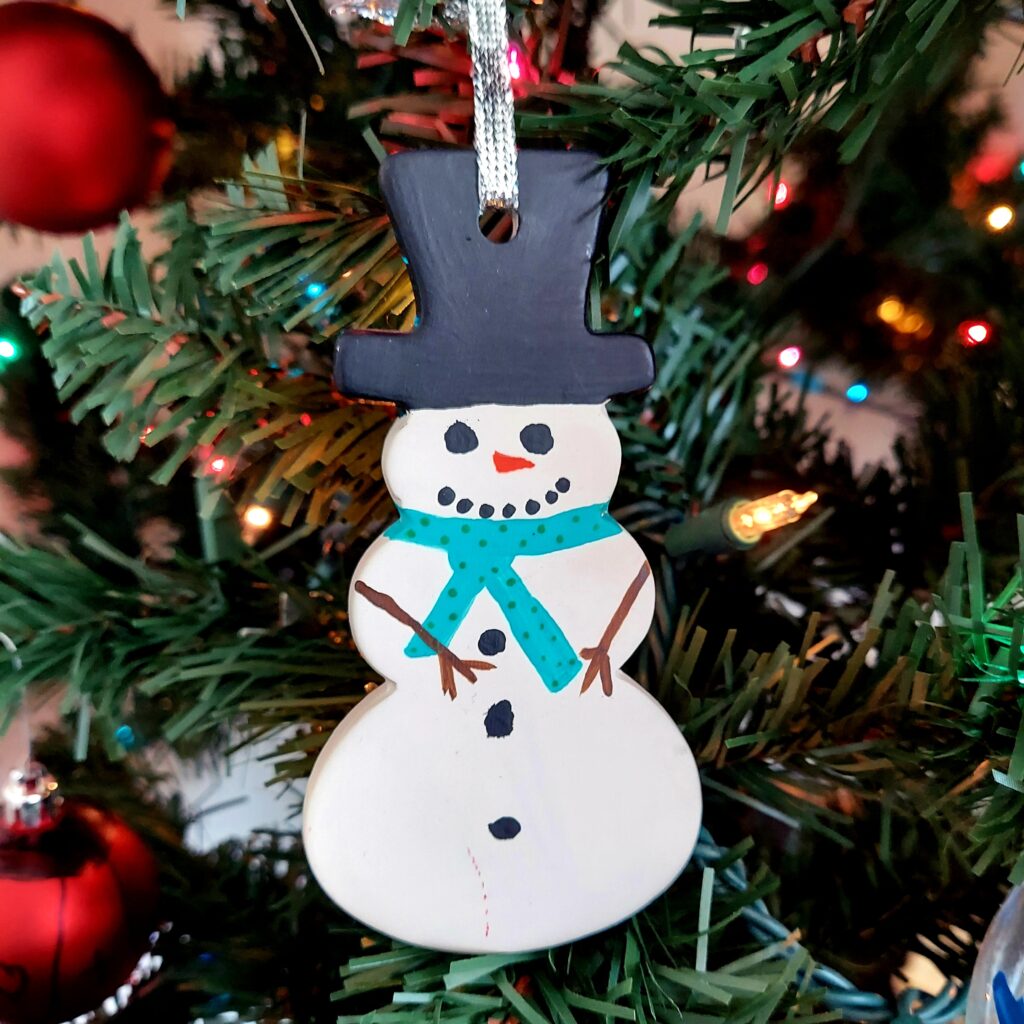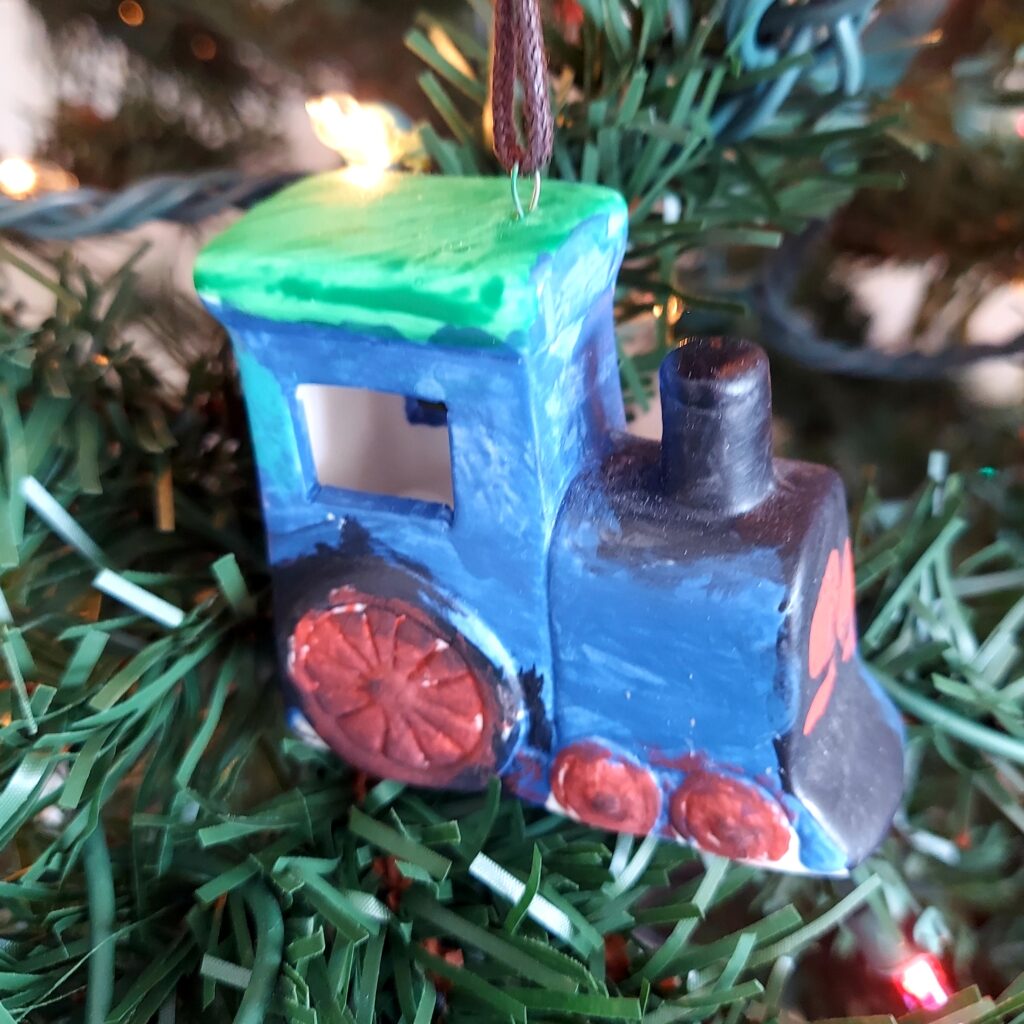 By 2019, hubby had finally come to accept the fact that we were going to decorate every year for Christmas and volunteered with our youngest (or I may have twisted his arm I don't really remember) to go out and get our tree. Each year we had a live tree up to this point so that's what I was expecting…well they came home with an artificial tree. The youngest looked at me and said "I think we got the cheapest one they had." Hubby said " Made a good investment, we'll never have to pay for another tree." And I unboxed a small, fake tree with not much personality. A little of my grinchy heart came back that year I have to admit.
But this year, I'm appreciating what I've named my own Charlie Brown tree. It's definitely a little spotty in places. It is barely taller than me. It's not very full or lush or wide or big.. It's full of homemade decorations. It's not trendy or magazine worthy or fancy in any way. But you know what? It's perfect.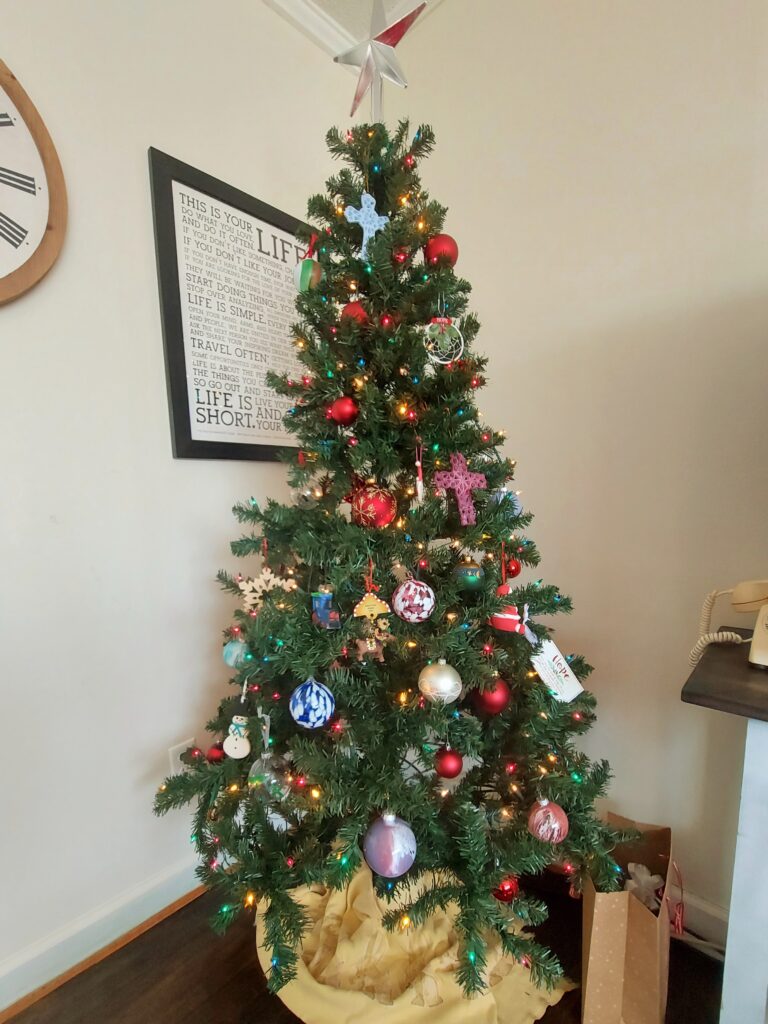 It reminds me a little bit of Jesus's humble birth. He could have been born in a palace. He could have been born as a royalty. He could have been born with some fancy bassinet and special clothes. Instead he was born in a manger and wrapped in swaddling clothes. He was rejoiced over by shepherds and cows
Linus says of Charlie Brown's tree, "maybe it just needs a little love." Our tree is definitely loved with handmade ornaments and treasures from our travels. And it reminds me that what the world needs most right now is a little love. And we really only know how to love because of the love that Jesus gave so freely for us. I hope today, whether you have a tree big or small or no tree at all, you'll share a little love with everyone you see. And I hope you know how very much you are loved. Merry Christmas!